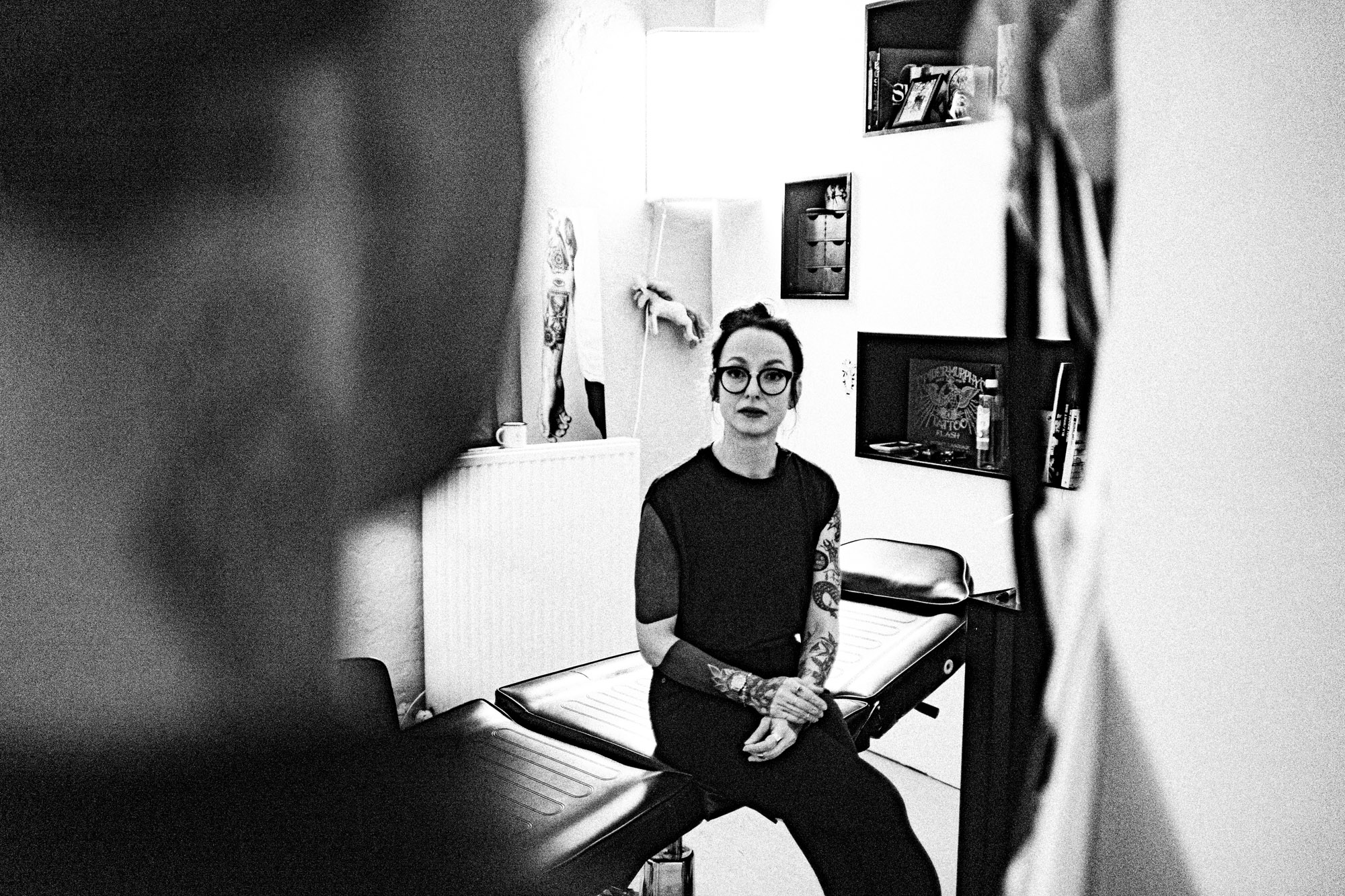 An all-day tattoo session with Dóra Berczi while she talks about travel, her artistic background, and meditation retreats in the jungle
I first discovered Dóra's work while swinging lazily in my hammock browsing Instagram somewhere in Thailand. I waited patiently for more than a year to get a chance to be tattooed by her. When she announced a guest spot in my home town of Munich, I jumped at the opportunity and managed to grab a whole day with her.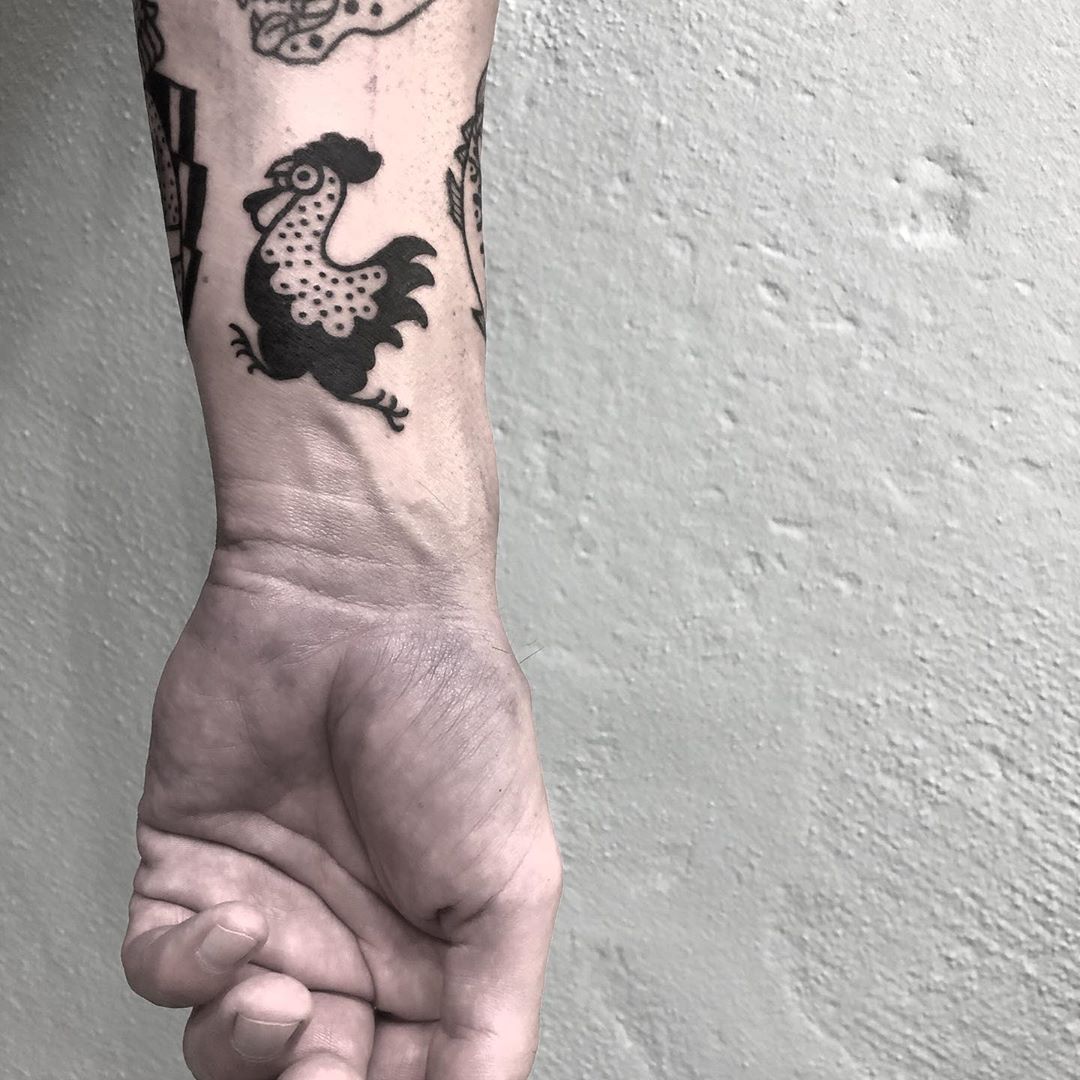 Sven: Valentin (@valentin.tatau) seems to be doing all the work for you here in the studio? Cleaning the gear and stuff, pretty convenient. Is that why you travel with him so often?
Dóra (laughs): No, it's actually only the second time we've been traveling together. We traveled in Asia for one month, and before we had met here at @farbenprachtmunich but just doing guest spots.
You guys seem to be getting along pretty well so I just assumed you had known each other for longer than that.
Yeah, one month in Asia together …
That can be a long time.
Yes! (laughs)
That was about a year and a half ago, right?
Actually not even one year ago. Because I came home in December and we met in November – yeah, so it will be one year in November that we started that one month together.
Ah, okay. But your start in Asia was quite a bit earlier, right?
I started in the beginning of February and I came back in December.
Wow, that must have been pretty good?
Yeah, it was amazing!
Where did you end up going to?
All the countries! (laughs) I've been to Thailand, Taiwan, Malaysia, Singapore, Hong Kong, Cambodia, Philippines, Laos, Borneo … but it was Malaysian Borneo.
Let's still count it. (laughs)
Then Nepal, too. And that year I didn't go to Indonesia but one year before I also did go there.
Did you have any favourites?
Phew, It's hard to say.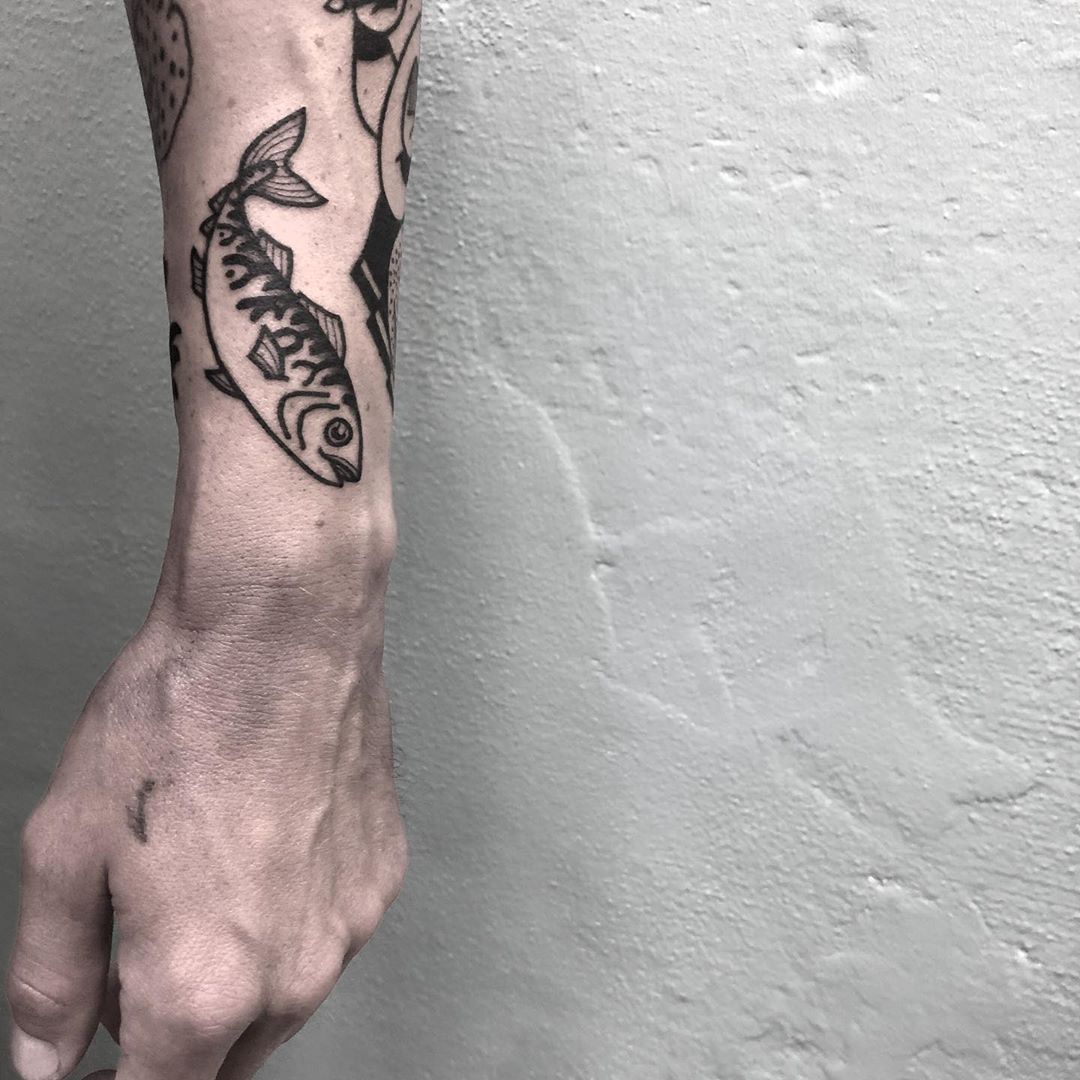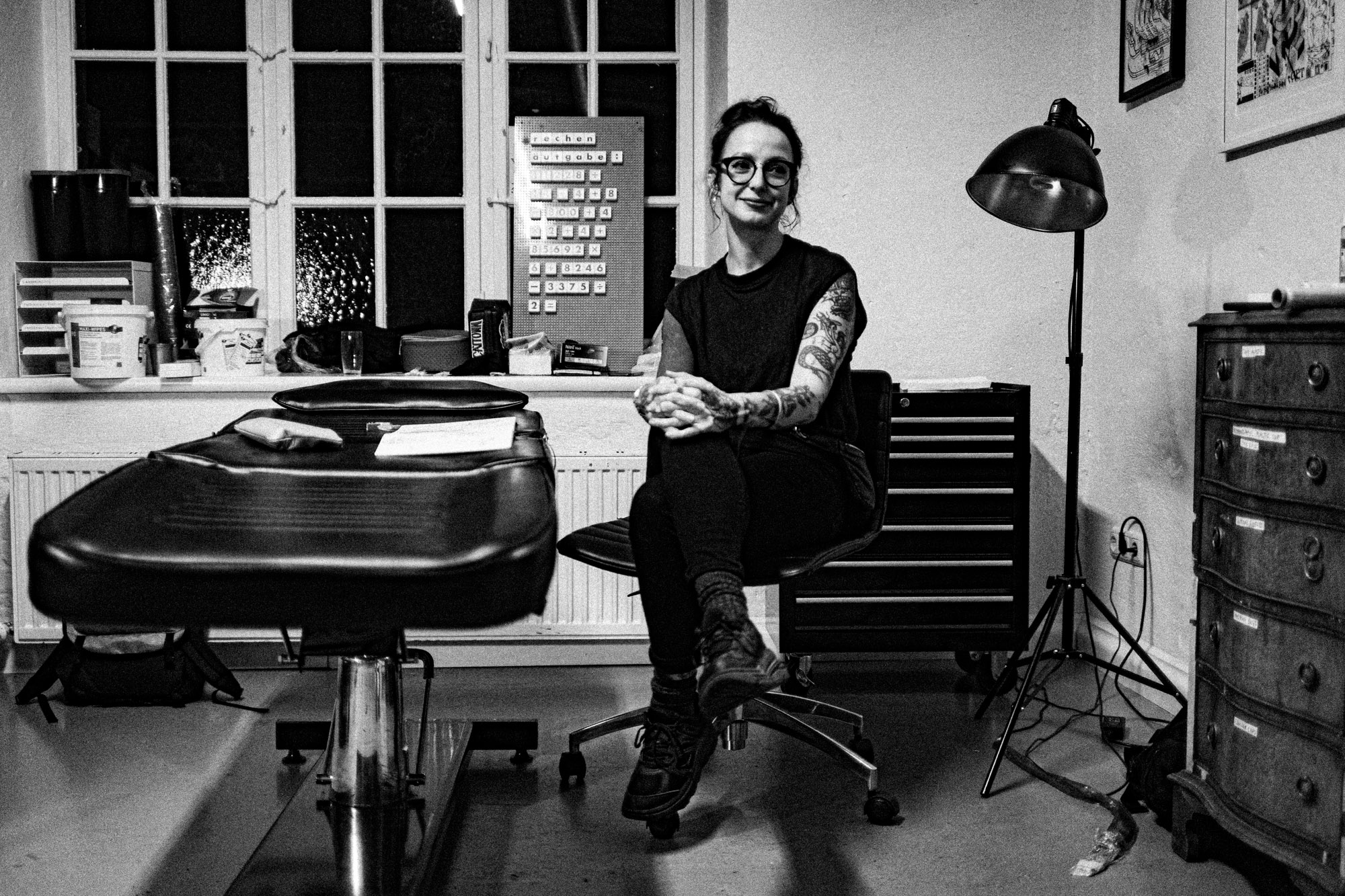 Did you work in all those places? Are there any differences in the people and how they relate to tattoos?
In almost all those places. Yes, it's way different! It can even be different in the same country but just different cities, it really depends on their culture. Maybe the biggest differences were in Taiwan because in Taipei it's very acceptable to have tattoos, it's more like a fashion thing there, but in the south tattoos are more connected to the mafia. And I went to a small island there and they still have tribes where the women get tattoos on their face, so for them it's beautiful. So in the same small country there were three totally different attitudes.
A friend of mine is actually planning to move to Taiwan right now. He lived in Thailand before.
Oh, it's good but totally different from Thailand. But I don't know where he wants to go – Taipei is very different from a lot of the other parts of the country. But everyone starts in Taipei and then moves south. Taipei is super intense and really expensive and the south is a bit more chill.
And how much of that trip did you and Valentin do together?
We met in Bangkok after my retreat, and then we traveled to the north of Thailand, and then we went to Laos by boat.
Oh you mean that slow boat thingy? I've been on that too! With that stop over in Pak Beng? That was a crazy place. When I arrived I was totally taken aback and just thinking to myself: "Where in the hell did they drop us off here?"
(Dóra laughs)
Dirt roads, kids begging for snacks, naked babies being bathed in half-broken plastic buckets in the streets. But the next morning it was lovely, the sun was shining and the people were friendly and everything was cool.
Yeah, it was actually really nice! And then we spent two or three weeks in Laos, and then we went back to Bangkok for a few days. So all together it was maybe a bit more than one month.
Were you working at all those stops?
We haven't been working in Laos, just traveling. Last year I've been more of a tourist than working actually. But I tried to work as much as I could, of course also because I needed the money. But it was more about the experience because every tattoo shop is different and I met so many people.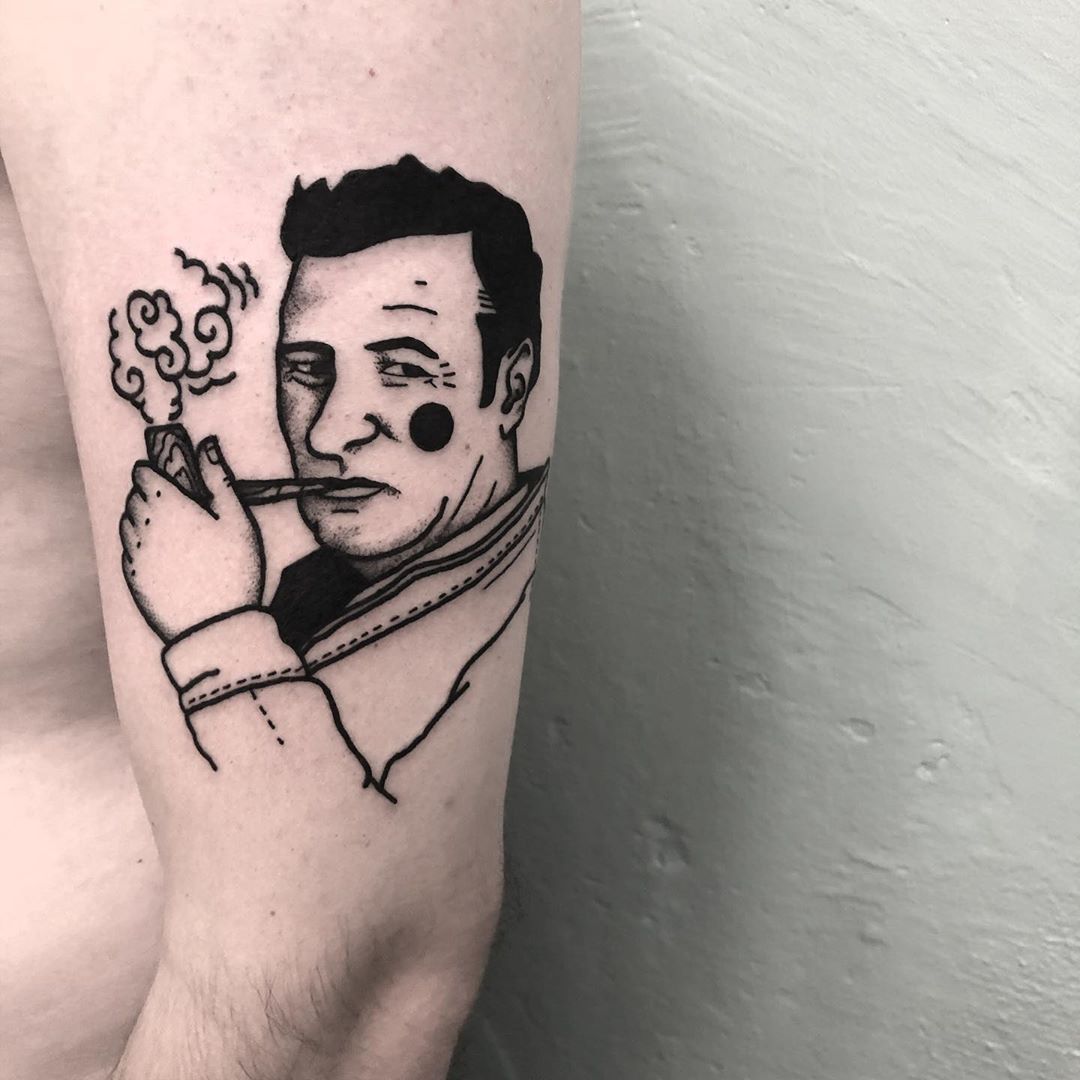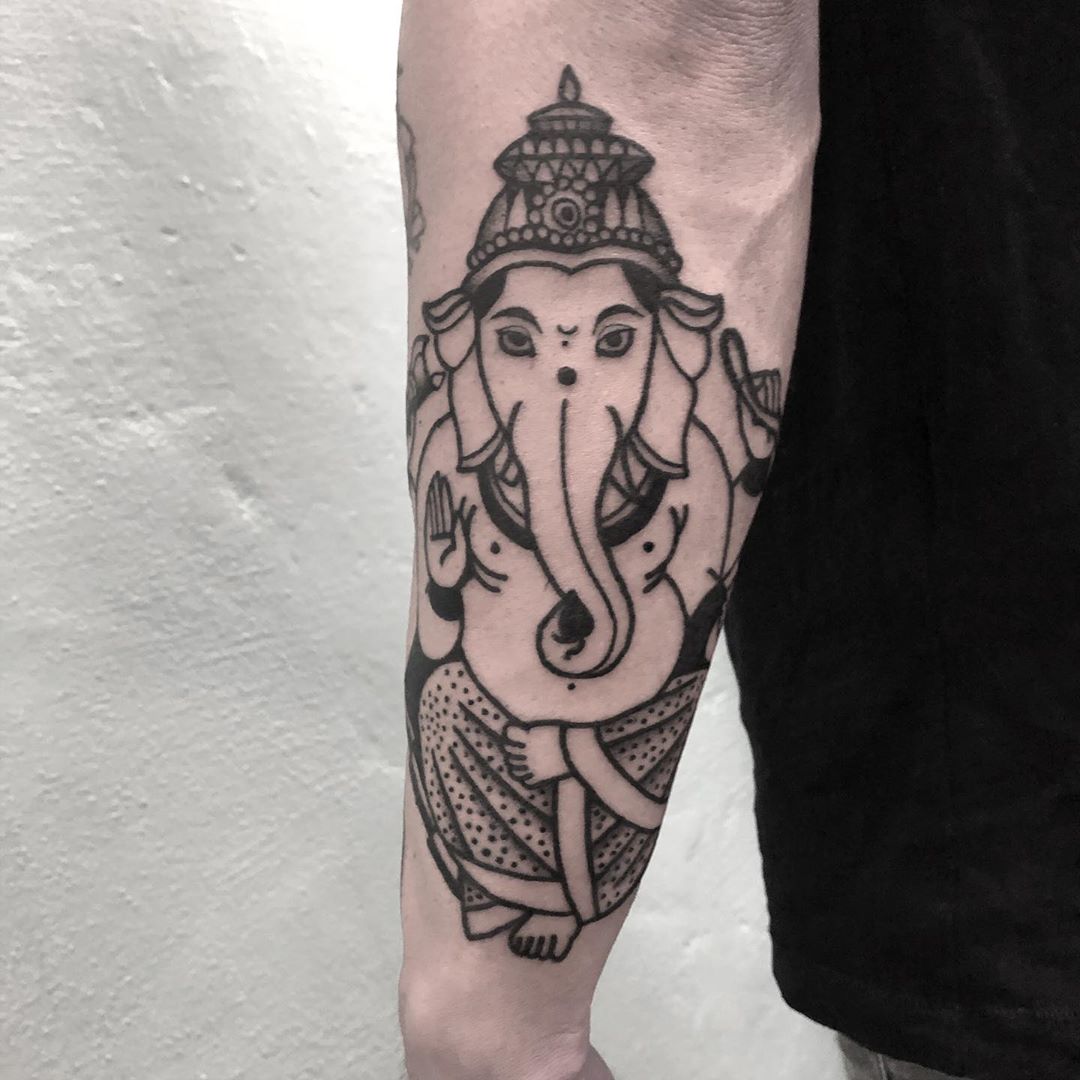 What kind of retreat did you do in Thailand?
It was a Vipassana buddhist retreat at Suan Mokkh near Surat Thani in the south. It was amazing.
I've heard of that one, it's a ten day silent retreat, right? Sleeping on concrete benches?
Yeah … and wooden blocks as pillows.
Will you do it again? There?
Yes, for sure. I've never heard of a better place. I probably wouldn't do it in Europe – it doesn't seem like the place for it.
I guess the vibe is different. But I guess the point of the retreat is, in part, that the surroundings shouldn't matter that much, no?
But in the end, I think, it does.
I guess I know, what you mean. Sitting in a regular European house while meditating in front of a Buddha statue maybe doesn't have quite the same exotic allure.
And in Thailand you are basically sitting outside in the jungle – so it's a bit different. (laughs) And you're not staring at a statue but an actual monk.
But there are a lot of monasteries from those traditions in Europe now.
Also in Hungary. My brother is a Buddhist but it's not Thai buddhism, I don't even know. And he also goes on retreats but it's really concentrated on Buddhism, and at Suan Mokkh it's not. They don't try to convert you, you can be whatever you want to there.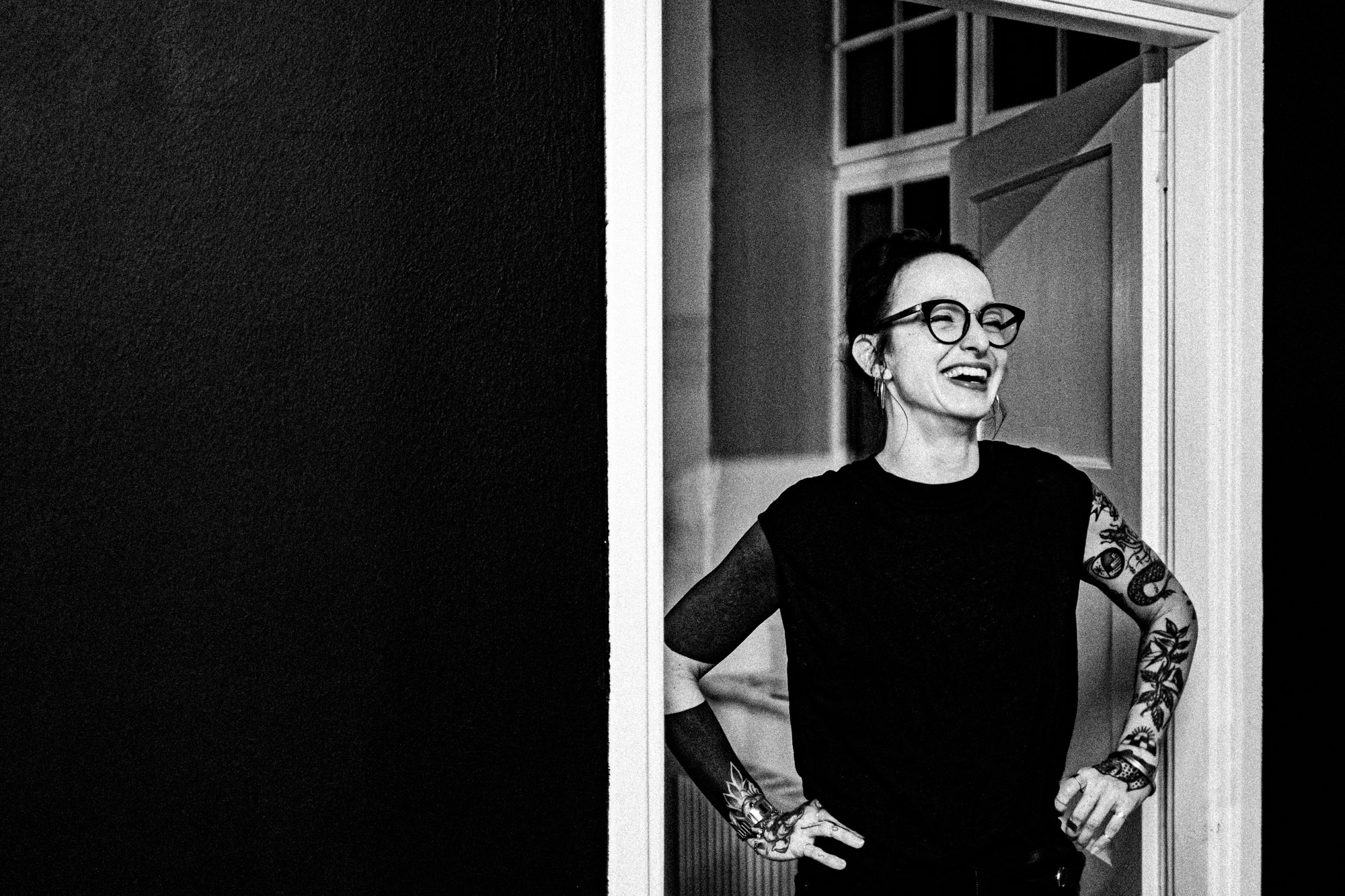 And after the retreat you went up to Bangkok to work?
No, actually after Suan Mokkh I was not working anymore. Before the retreat I was in Kuala Lumpur – those were my last two weeks of working – and then a few days in Singapore and then I went to Thailand.
How did you like Kuala Lumpur?
It's horrible! (laughs) I really liked one part of it, where I'm always working and living when I'm there, but that's really outside of the city. The center is horrible though.
It's a crazy place. It feels a bit like Bangkok but without anywhere to walk. Only streets!
Yes – for me, it's really not natural.
But they have some crazy good food there. I love the Malaysian/Indian cuisine.
Also the Chinese food there is really great.
How long have you been doing the whole "traveling tattoo artist" thing for now? Maybe you can give us a bit of your backstory?
I think I've being doing tattoos for maybe eight years now. I was finishing my graphic design diploma at the Hungarian University of Fine Arts back then and I already knew that I didn't want to do that for a living. (laughs) I was really stressed about that and the guy I used to get tattooed by back then, Péter Udvari (@upetattoo), then asked me what I was going to do after I got my diploma and I told him: "I really don't fucking know, I just don't want to be a graphic designer!" And actually he offered to teach me how to tattoo. He gave me this speech about tattooing and then I got enlightened. (laughs) And since then I know that I have to be a tattoo artist.
So he converted you? (laughs)
Yeah. He did not end up being the one who actually taught me but he did put me on the right path. And then I learned from a friend of mine, Tibor Horváth (@tibor.hor_tattoo), which was super lucky and I'm really grateful to him. And then I was lucky enough to start at @fatumtattoobudapest pretty soon. So I didn't have a normal apprenticeship which I actually still think everyone should get. (laughs)
So the apprenticeship is still a real thing?
Yes, now in Hungary it actually works although we didn't use to have a classic tattoo tradition going, different than in other parts of Europe. But I would say, the apprenticeship is the best way to do it. So if I could go back … but that doesn't matter now. So I started like that and I was working in a studio as a kind of student-apprentice-thingy for, I think, three years, and then I started a private studio.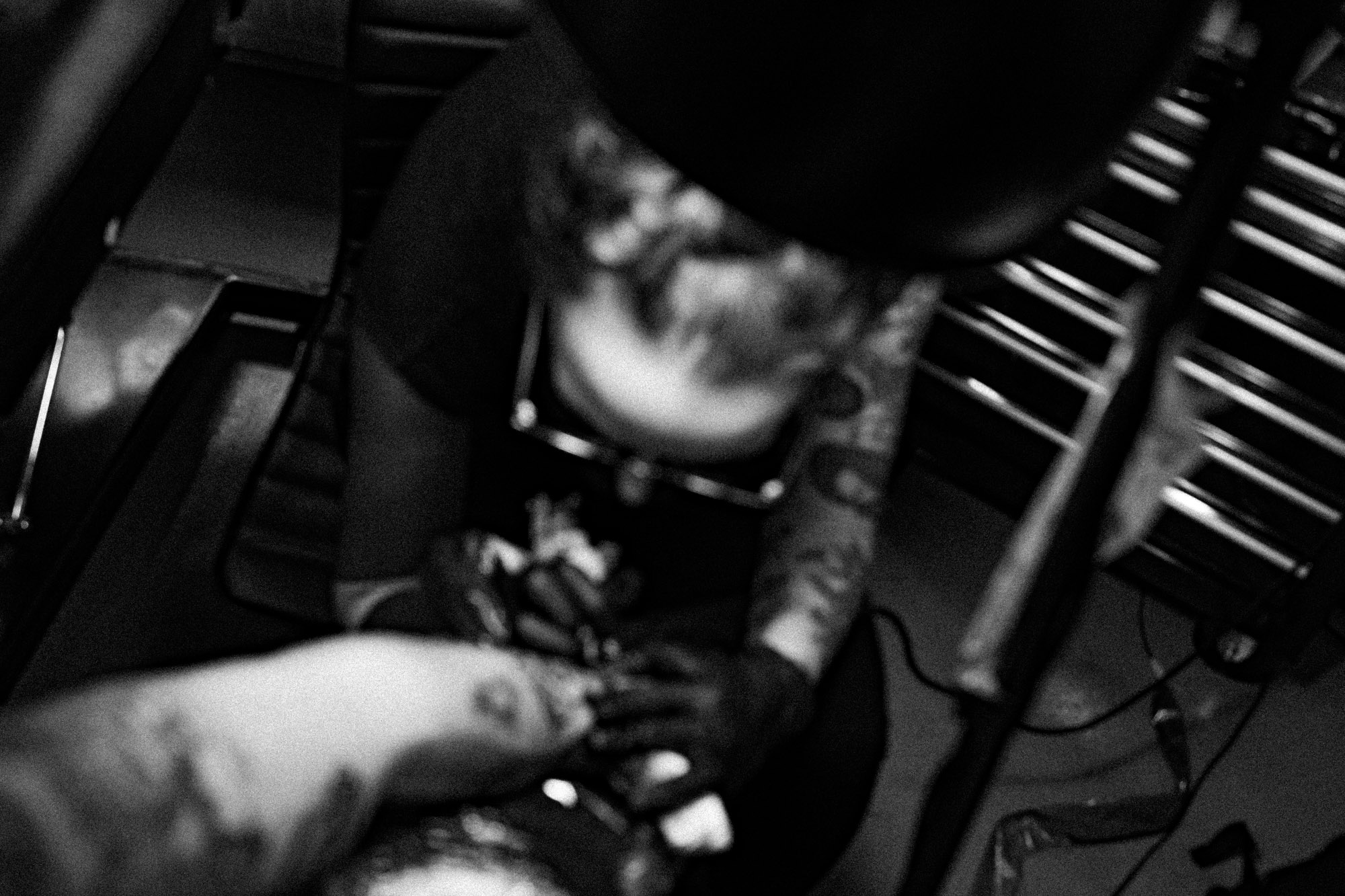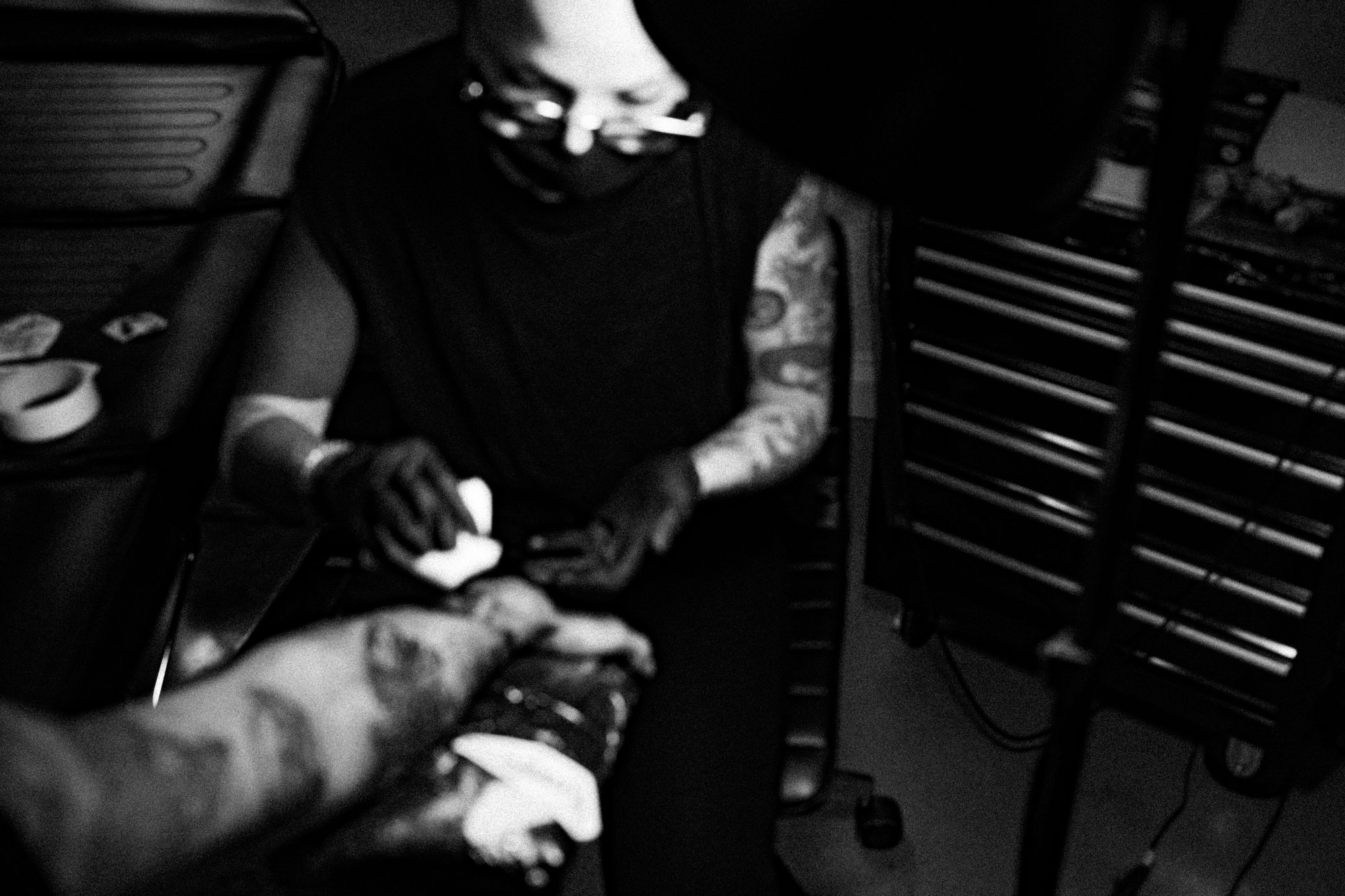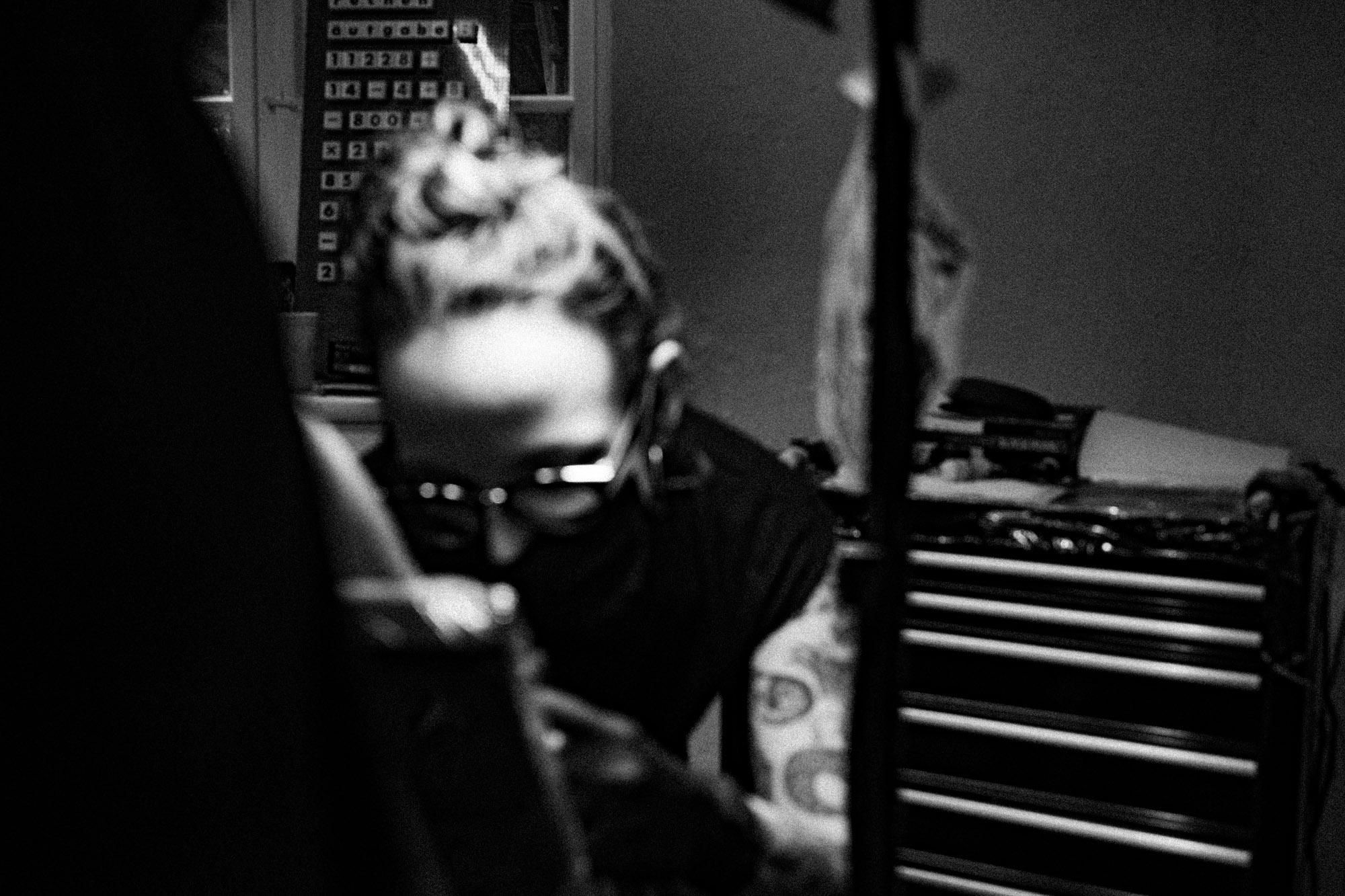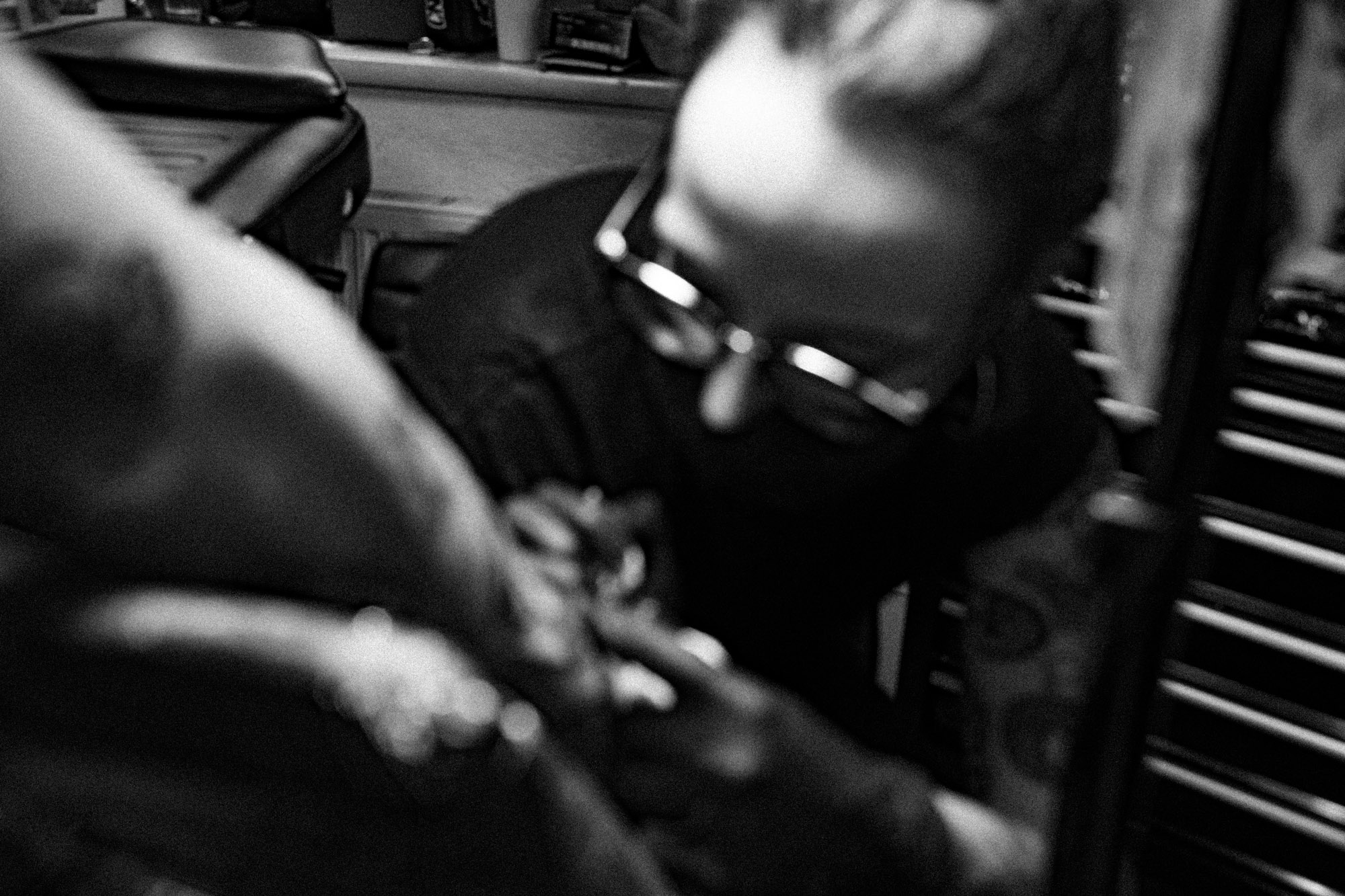 So after only three years you were on your own?
Only me, I rented a room and that was that. And then, I guess, I started traveling with tattoos about four year ago now, maybe five-ish? When I opened my private shop I was already traveling a lot and after a year and a half and I had gone to Asia for the first time, I decided that I wanted to be super free. So I gave up my studio and only went traveling. Then I went for that year in Asia and the plan for this year was to spend most of the time in Europe, of course go home to Budapest from time to time and do guest spots there as well, but then COVID happened. But it was also really good because after four years of traveling and a very intense last year I needed some time to relax.
I guess you can't do that forever, right?
You definitely need some time to process, yeah. Actually, I realized it when I had to go back home from Manchester and straight-away I did two weeks of quarantine.
Did you work in Manchester?
I couldn't. First I did the Europe trip and I had already been working in London at @oldhabitstattoo but the day before had planned to start working in Manchester at @raincitytattoocollective I had to go back home because they were starting to close the borders. Hungary was already closed. Now I'm safe even though Hungary has closed its borders again, but I can easily go back from Munich because it's really close – but England is not so close. And two weeks later I couldn't even have gotten flights anymore, so it was a really good decision. Otherwise I couldn't have worked but I still would have had to pay for my accommodation and everything, so that would have sucked. And it was nice to go home – I couldn't work for three and a half months and I was drawing a lot in that time. Actually together with Valentin and another about 40 tattooers we will make a book of drawings and we want make it into a Kickstarter campaign.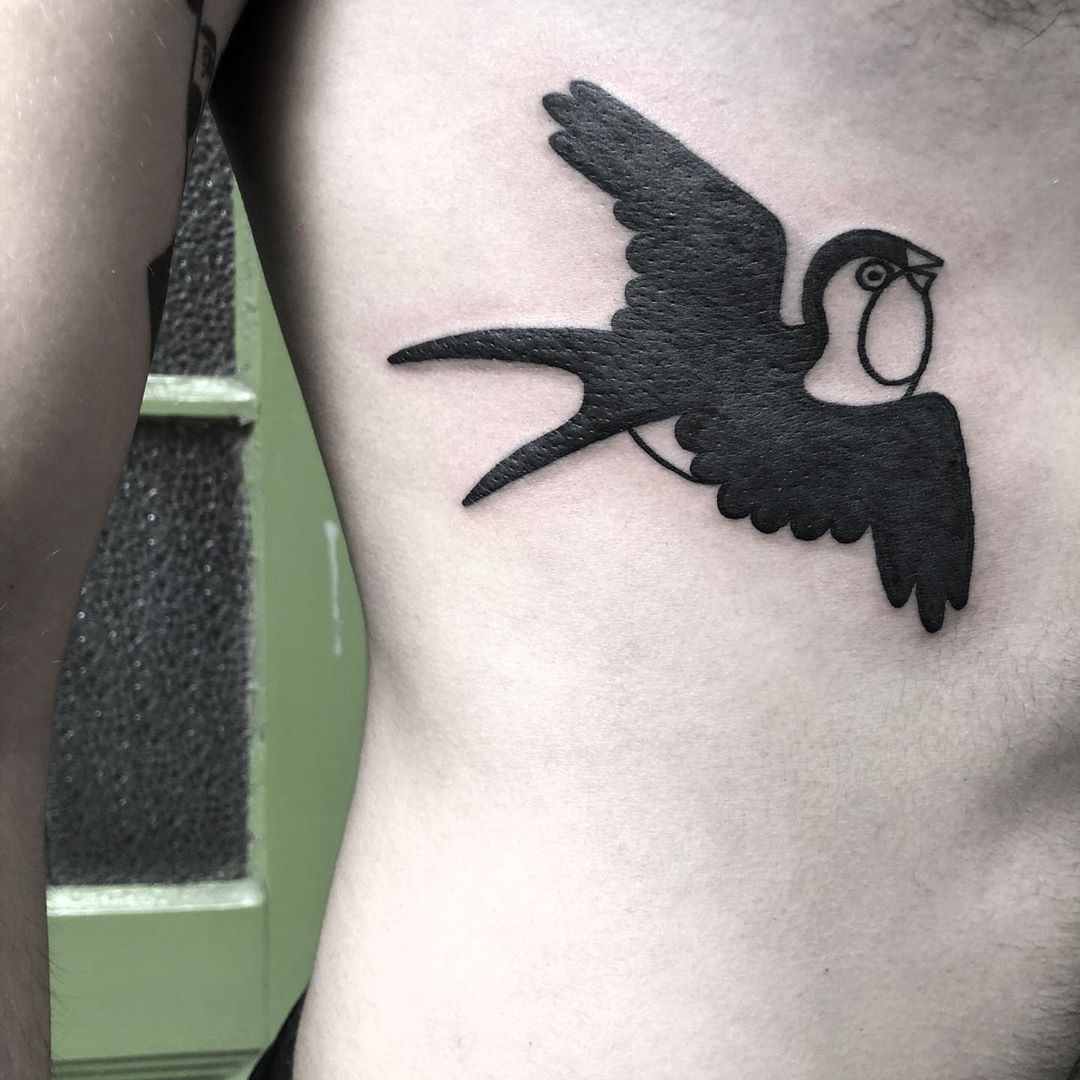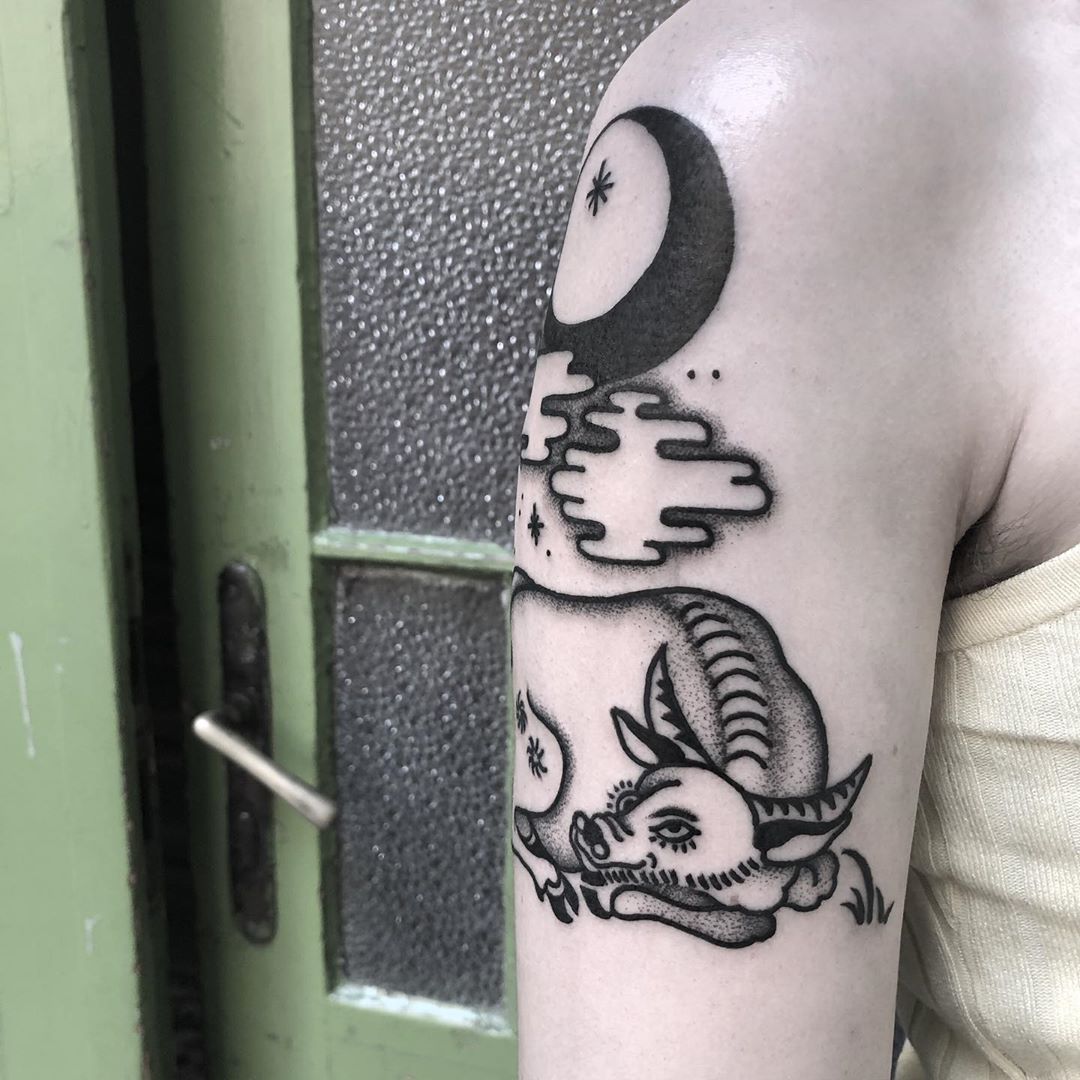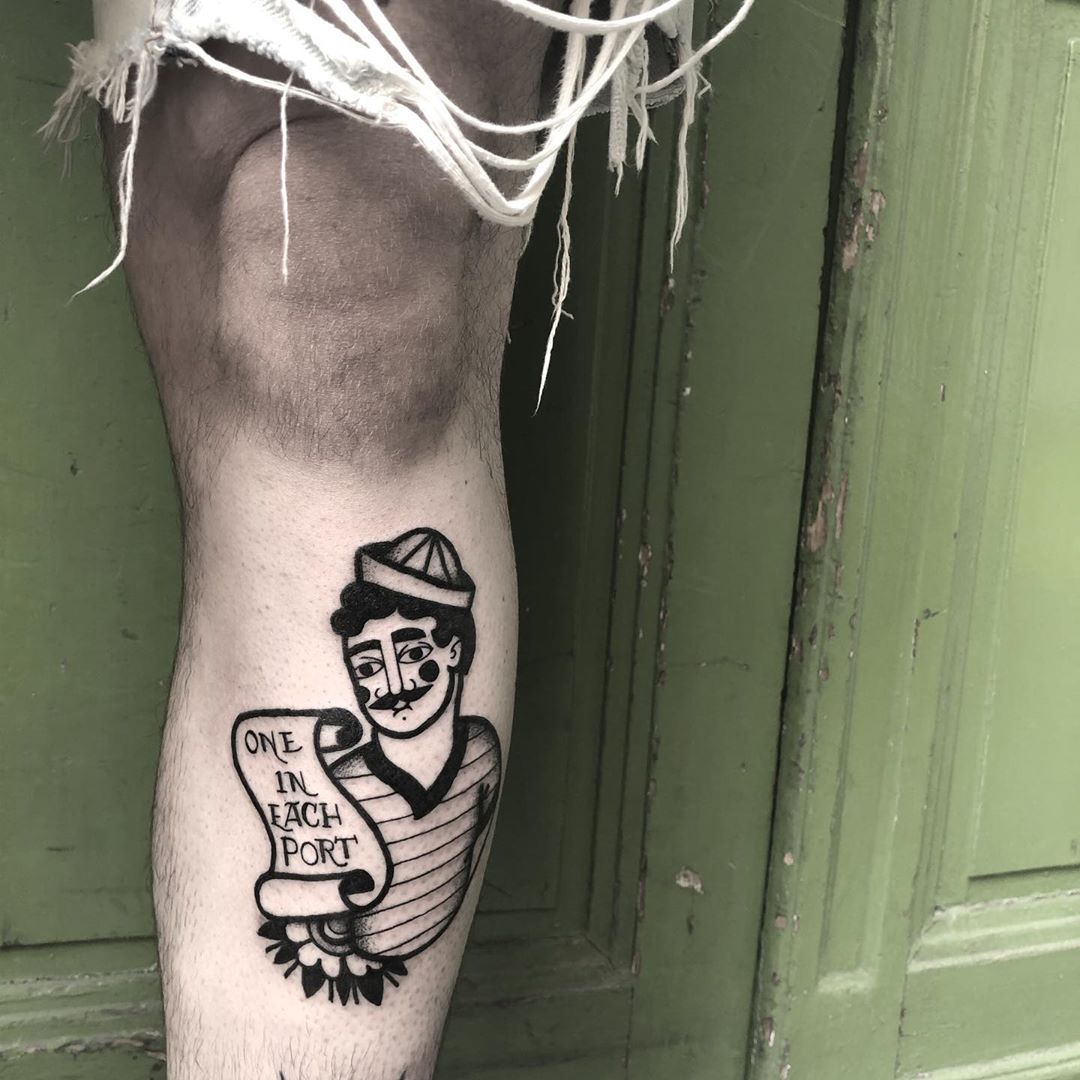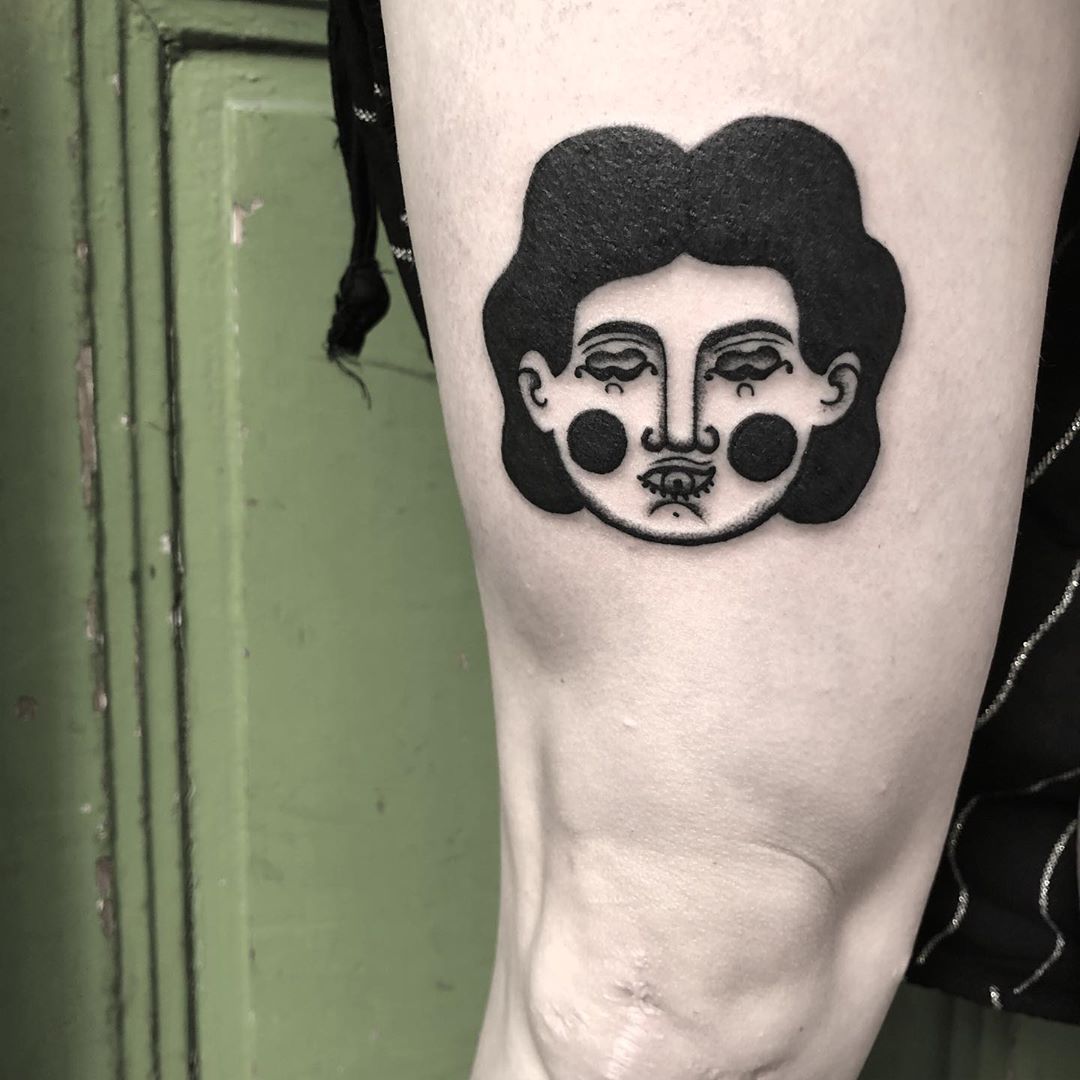 40 artists? Wow, that's a ton of work.
Yes, around 40 people and 7 drawings each. That's a lot. And very cool stuff from cool people, I'm really excited.
It's all illustrations, so not like a flash book or something?
No flash. Everyone did the same format, 15 by 15 cm, and everyone worked on the same subject.
That's awesome. Do you know when it will come out?
Not yet. We collected all the works and Valentin tried to connect with some publishers, but right now they are not really willing to try something new. So we decided we wanted do it on our own.
But if it's 40 of you and you all probably have a ton of followers on Instagram – it shouldn't be hard to sell a lot of those books, I'd guess.
Yeah, I hope so! We will see. But it's a lot of work. But when I go home I will have to do the quarantine again. So I'll have two weeks to put together the layout.
So since you're trained as a graphic designer, you're stuck with that job? (laughs)
Yeah, it's my job … (Dóra looks down and smirks sheepishly) But it's okay, it's fine.
I guess, since it's all the same format it actually won't be all that bad.
No, it's not. We just have to decide what we want and also have to find a printer. And we want to give the money to charity. That's why we really want to do it this year and give the money to some organization that solves COVID problems. So we have to decide that part too.
Going back to the graphic design – you have a really distinct style, really recognizable. Were you drawing for a long time before you started tattooing?
Thank you! Yes, I've been drawing a lot – since forever. And I took drawing classes, I think the first one when I was eight years old. And my drawing teacher actually told my parents that I should be taking extra classes. In my hometown we had this artist community and I went to this lady, I think she was a painter? I don't want to be wrong but it was such a long time ago. So I went there for a few years but I was a kid so it was more just for fun. And then in high school I took classes from a Russian painter and then when I decided that I really wanted to do something with art, even though I didn't know what exactly yet, I took private lessons to really learn the proper drawing stuff. So yes, quite a ton of drawing. (laughs) Also at university I was working more with the graphic artists than my own department.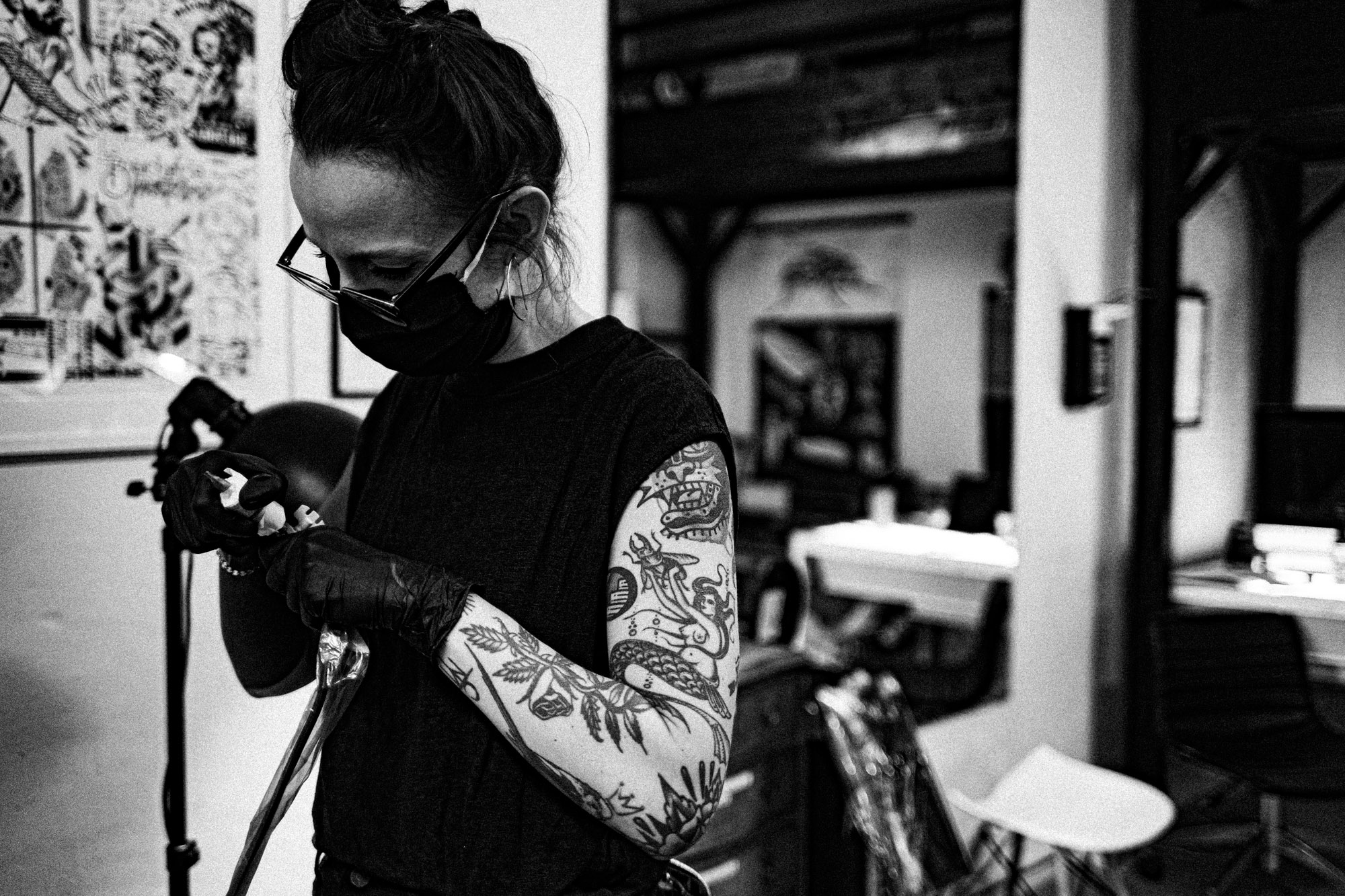 More with illustrators and painters you mean?
Yeah, I enjoyed that a lot more. But it's useful to know the graphic design stuff and I still work with that every once in a while when a nice project comes along. But I'm really happy that I don't have to make a living from that.
I know what you mean. I used to do a lot of graphic design. Now I mostly do photography and web design – and this project here is actually taking up most of my time these days, but I did a lot of design for night clubs and stuff.
But that's not so bad …
You would think that but in the end the clients just want the same kind of thing over and over again. It's soul-sucking really. And not very well paid either.
Oh no, it's not! (laughs)
So I guess, your artistic training is probably the reason why you already have such a unique style. It seems a lot of tattoo artist have to experiment for a long time, which is of course not a bad thing. But you do a lot of different things yet they all have one style.
Thank you! That's quite a compliment.
So what lies ahead for you? You just came from Budapest to Berlin and then here to Munich?
Yes, and next up is Bern in Switzerland (@outlawz.tattoo), then I will go back to Mannheim for a little bit and then back home for two weeks quarantine. And if I can, I will go to Scotland, then Belfast and then London to get my own back piece. It's a long process but I have two appointments – if I can actually do that then.
How far along is your back piece?
We only had one session so far because I had to come back then. It's gonna be a kind of Japanese back piece.
Cool. Do you have anything on there yet or is it … clean, I guess?
No, it will be a lot of cover-up. Nothing's clean any more. (laughs)
Except the face – no actually, there is a bit …
I have just a little bit …
(both laugh)
Yeah but my mom doesn't want me to have anymore stuff on my face.
I'd say I'm pretty liberal when it comes to tattoos – after all I just got most of my arm done by you yesterday – but face … I mean, that's quite a commitment. And it depends on what it is as well. When people have huge words on there – I don't know.
That can be also cool.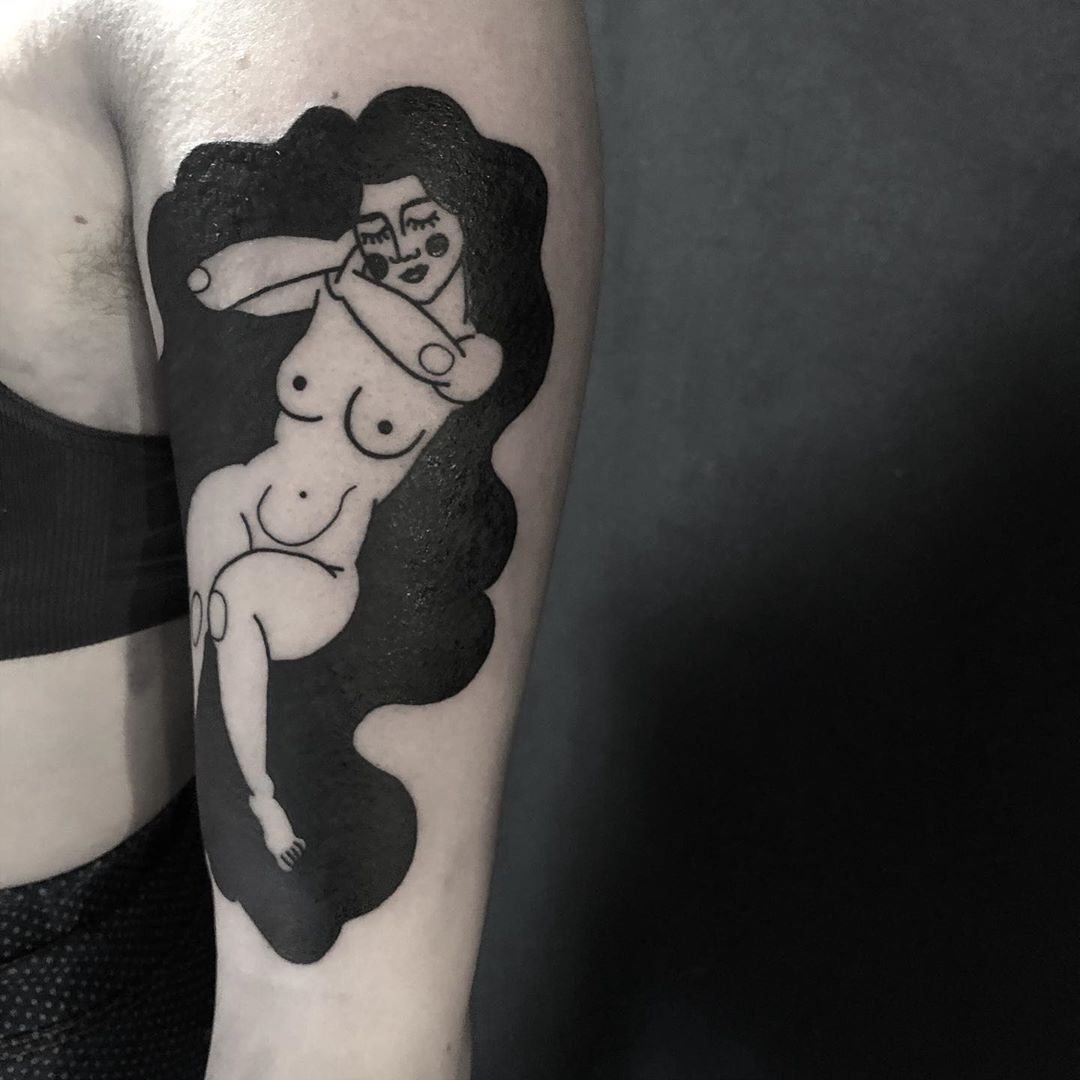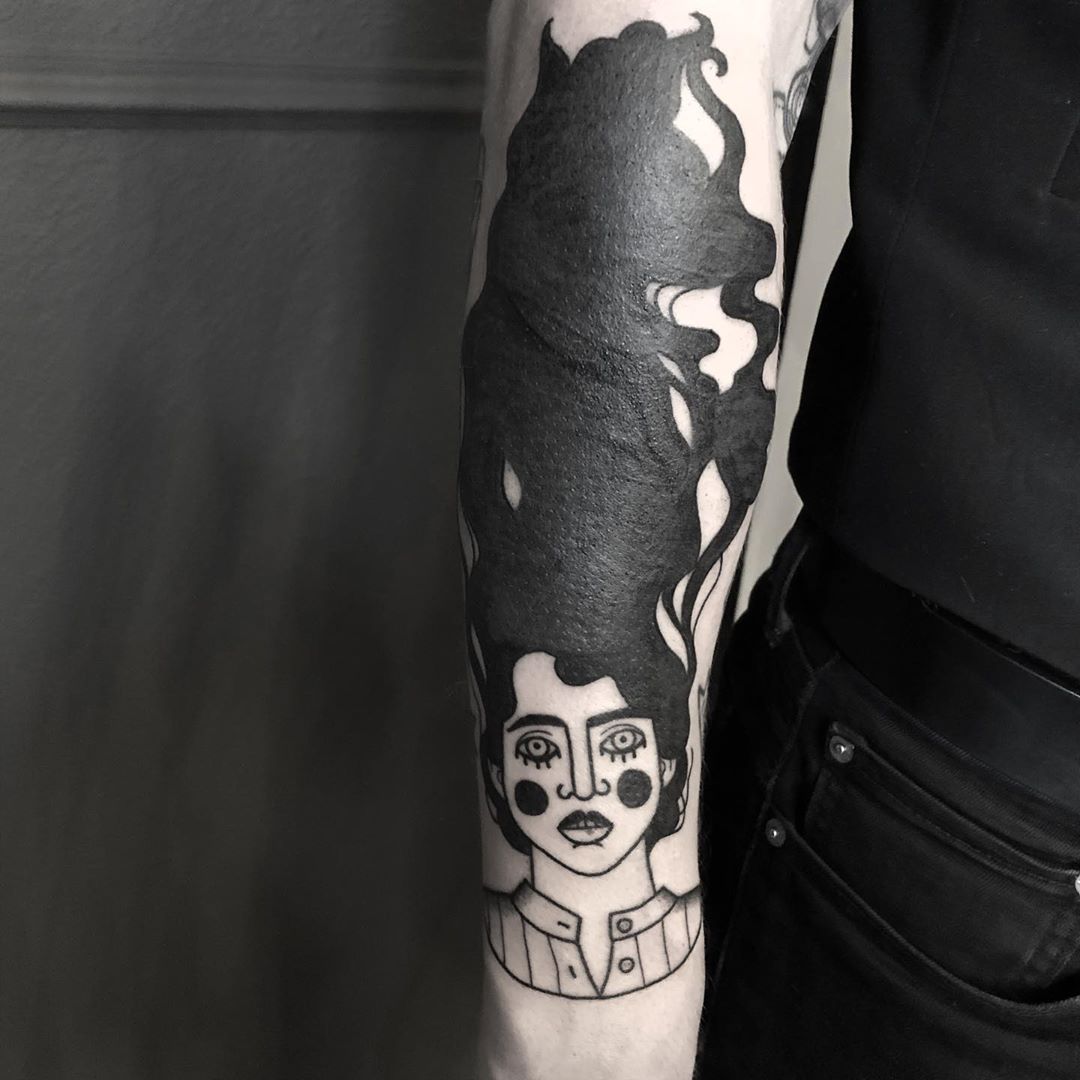 I guess … I used to want meaning in a tattoo but I don't look for that anymore – it's artwork now basically. But people always ask about tattoos and then you have to explain why you have liberty in script on your forehead. Like, I don't know, it made sense at the time?
Well, when you have enough tattoos people don't ask anymore because it's just too much.
I truly hope I've reached that point now because, honestly, I don't know how I'll explain that fish on my arm, I just liked it! (laughs)
Yes, like this! Or you can just tell stories, every time something different. (laughs)
So the rest of the year you will probably spend on the book then? I mean, it's already September now anyway.
If I can go to England I will be back home from that in November. Then probably again two weeks quarantine. (Dóra rolls her eyes) And if there's no lock-down in Hungary then – which would be surprising – I could also work there then. I don't know how or where yet, probably at @electricbat_tattoo, where I already was this summer. And I'm hoping for the end of the Corona times and maybe next year I can travel some more and go back to Asia again.
Going on more fantastic adventures and retreats …
Yeah, I can only recommend it! (laughs)